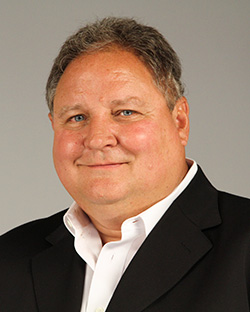 John Nock, President
UFCW Canada Local 12R24
Dear Sisters and Brothers:
I am extremely proud and honoured to be writing my first President's message. First off, I would sincerely like to thank everyone who supported me in this election. I am truly looking forward to the bright future of this great local union, and I am very excited about our plans to help the membership going forward. I would also like to congratulate those who were elected in other positions of the union and thank outgoing officers for their past contributions.
As you are all aware, Ontario has elected a Conservative government led by Doug Ford. The PC government plans to allow for the sale of beer in convenience stores. As a result, we will be working with The Beer Store and UFCW Canada to demonstrate to the Ford government that we are the best at what we do.
As promised, our Local now has a Women and Gender Equity Committee. The inaugural meeting was held on April 5, 2018. The committee consists of Zana Feric, Stoney Creek DC; Christine Roberts, Schomberg Retail; Marie Grady, Whitby DC; and Melanie Coulas, Ottawa Retail. You can contact the committee with any questions, ideas, or concerns you may have at .
I am also working on assembling a Youth Committee. Currently, I am gathering names of members who are under the age of 30. If you or someone you know is interested in participating in this committee, please e-mail the local union office at and let us know. Be sure to include your first and last name, as well as your phone number and work location.
I know that we have not had a Pension Committee in many years. I have informed the employer that we plan to restore this committee to ensure that all rules and regulations are followed and that members can stay informed on the local's retirement funds.
With the help of UFCW Canada, we have implemented a new software that enables us to send text messages to every member who has signed up for news and updates. The purpose of this initiative is to keep members informed on a consistent basis. Our full-time representatives will soon be asking all interested members for their cell phone numbers to allow them to receive the latest news updates.
I also plan on participating in a number of public events to increase our union's exposure and community involvement. In this day and age, we have to be united, and solidarity is the key to ensuring that. I understand that this a large province, and this will take some time to accomplish, but I am committed to achieving unity.
It has been brought to my attention that our Executive Board and full-time staff are seeing more issues in the workplace concerning members "against" members, or managers against members. It is
imperative that we respect each other in the workplace. Please ensure that you are speaking to your colleagues in a courteous and professional manner. If you are on the receiving end of unwanted comments or behavior, inform the person that this behavior is unwanted and tell them to stop or you will report them to the employer. Please give them a chance to stop. If this behavior is physical or sexual in nature, please remove yourself from the situation, go to a safe place, and call the police immediately. You can then notify the employer and your union representative.
The employer is continually recruiting new breweries to become a part of The Beer Store. We must be respectful and helpful to licensees and retail customers. These new breweries may leave if we do not provide the best service possible. Less work means less of us required.
The employer is very sophisticated when it comes to loss prevention, so please ensure that you do not do anything that puts your job in jeopardy. Remember, there are cameras that record you while at work, and they will catch any misconduct. Do not refund empties without the customer standing in front of you; do not give extra product without charging; and do not breach the employer's policies, as all of these infractions could lead to the end of your career and possible criminal charges. If you are performing your duties as required, by the book, you will not have anything to worry about.
The employer has released a large amount of policies for each member to read and sign. Please ensure that you thoroughly read and understand each policy prior to signing off. If you do not understand the policy, kindly talk to a manager. It is very important that you understand what you are reading and signing. Do not sign off if you do not understand the policy, or if you need further clarification. If you are ever feeling pressured to sign off on a policy, please contact your union rep for assistance.
I would like to inform you that the UFCW 8th Regular Convention has concluded. The delegates voted to amend Article 38(A) 3 of the International Constitution. A per capita increase was approved and is now effective with payment due by the local on August 10, 2018. Local union dues will therefore be increasing by 46 cents per member, per week. This small increase will become effective the first week of October 2018.
We are also hiring a full-time benefits representative to assist with WSIB denials, appeals, and Great West Life issues. I encourage everyone to forward all applications and resumes outlining your qualifications to . The deadline for applications is September 9, 2018. Only those selected for interviews will be contacted.
We are also looking to a hire a service representative for Regions 3 and 4 (combined), as well as Region 6. Again, if qualified, please e-mail your resume and qualifications to . The deadline is September 9, 2018. Again, only those selected for interviews will be contacted.
One final note regarding prescription drugs. If a member or their dependent submits the cost of a prescription drug to Great West Life and they are not reimbursed for the full cost that the pharmacist charges, remember that there is a 10% co-pay (as per the collective agreement) and the dispensing fee cap is $7.00. We have received complaints that Great West Life has reduced payment, claiming that the cost that the pharmacist charges is higher than the amount covered by the Local 12R24 / Beer Store plan. This is not the case – you are to be reimbursed for the full amount of your prescription, based on the amount that the pharmacist charges.
A final reminder: we are covered for generic drugs, so please ask your pharmacist to prescribe generics only. Exceptions are granted for brand name drugs that are submitted with the proper medical documentation. Unless you have a severe medical condition that requires specific brand name drugs, you will only be paid for the generic cost of the drug.
Thank you.
Sincerely,
John Nock, President
UFCW Canada Local 12R24